Dog Friendly Bars, Restaurants & More by the Bay
"Hey, Jessica! Want to get brunch on Sunday?"
"Sure. Can I bring my dog?"
"Um, no."
"Then I'm not going."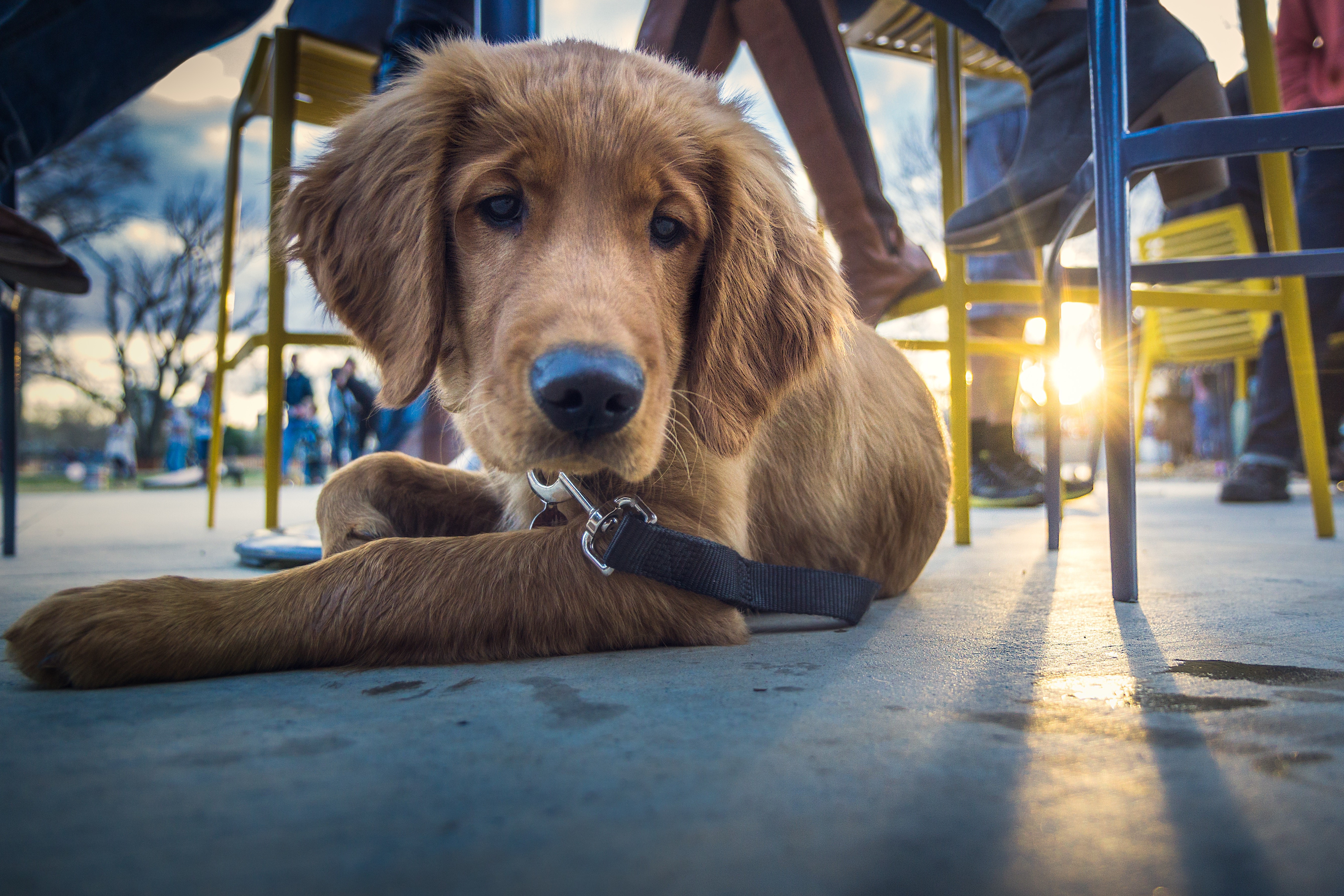 There's nothing like a morning mimosa at the newest brunch pop-up...except when your four-legged BFF is home wondering where you are and wishing he were with you. Cue the guilt trip. Thankfully, I'm pleased to say that several Bay Area businesses, locations, and events have adapted to make room for dog lovers like myself, as well as our canine sidekicks.
So, the next time you and Fido are looking for an activity (or bar), check out some of these pet-friendly locations:
1. Devil's Teeth Baking Company (San Francisco)
Let's start with the fact that Devil's Teeth bakes their own dog treats, which I'm pretty sure are really just cookies (who's complaining?). Luckily, the Outer Sunset bakery makes incredible human food, too - specifically cinnamon rolls and breakfast sandwiches. Get yourself breakfast, grab a treat for your pup, and sit outside while making friends with all the other dogs and humans doing the same.
2. Telegraph Beer Garden (Oakland)
Beer. Burgers. Patio. Pets. Enough said! This First Friday hotspot has a ton of outdoor space with sturdy wood picnic benches and badass street art lighting up the brick walls. Vegetarians have solid food options, but carnivores should eat the Smokehouse Burger -- a half bacon, half beef patty topped with pulled pork and BBQ sauce. Oh, and don't forget to add the mac & cheese for good measure. Just remind puppy that this is Mommy's food, not his.
3. Homeroom (Oakland)
Speaking of the best mac & cheese ever made… Oversized bowls of grownup mac & cheese, a sidewalk patio with excellent people watching, and dog treats available for your (doggy) date. The Gilroy Garlic is their heavy hitter, a simple but rich gouda-based mac, or go pro by adding in artichokes, sausage, and jalapeños. If you grab a seat outside, your mutt can watch you enjoying cheesy goodness while you watch the hipsters passing by.
4. Mosley's Cafe (Alameda)
With its weatherized outdoor patio and cozy, minimalist environs, Mosley's café is a morning destination in the Alameda area. The dockside space offers sunny views of the Grand Marina, and for neighborhood folk looking to walk your dog, don't worry -- Mosley's is pup-friendly. What more could you possibly ask for than great coffee, dog-friendly vibes, and a light menu…of locally sourced scrambles, croissant sandos, and crepes. Just like Mom used to make.
5. Drake's Dealership (Oakland)
It's the outdoor beer garden that makes Drake's such a fab spot for a family hangout. On any given weekend, you'll see 10-15 dogs chilling in its industrial chic outdoor space. Crowd-pleasing menu selections like wood-fired cheese pizza, burgers and sausages will keep your sidekicks smiling. Most importantly – don't forget to snap a pic of your pooch to add to the restaurant's Instagram gallery! If only my dog would sit still long enough for a photo…
6. Point Isabel Regional Shoreline (Richmond)
*In my best Stephon from Saturday Night Live voice* "This place has everything!" Your pup can run free, unbound by spirit-crushing leash laws, at this 23-acre park. Walk the San Francisco Bay Trail and snap Insta-worthy shots of Marin and the Golden Gate Bridge along the water's edge. After your mutt has had its fill, relax with coffee and snacks at the Sit & Stay cafe, while Mudpuppy's grooms your dirty dog. Coffee and a clean car? Sign me up!
7. Catahoula Coffee Company (Berkeley)
It's a scientific fact that we study more efficiently with our dog nearby (you didn't learn that in biology class?) Catahoula knows it, too, and they are more than happy to welcome your best friend and your books. Drink a dreamy Mexican mocha, eat a mochi muffin, and live the good life all while studying up, or kicking back with your pup.
Reminder: Follow us on Facebook for the most recent photo's, events, contests and specials:
https://www....alettealameda
Enter your contact info and request details below, and we will contact you with details about your private party!