Best Bay Area Summer Concert Venues (that won't break the bank)
I love music. I love listening to music, I love seeing music performed, I even love to dabble in writing music (or pretending that I know how to do so). Though the Bay Area's temperate climate provides many suitable options for year-round and outdoor entertainment, none can compare to the options in summer. Farmer's markets – check. Flea markets and festivals – check. Summer concert series – let's do this! But we all know that those tickets to Justin Timberlake (and Pink and Taylor Swift and Outside Lands) add up quickly.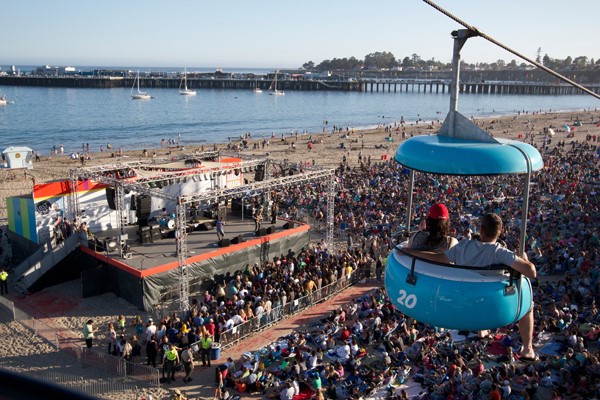 I'm pleased to say that there are plenty of concert venues that won't break the bank this summer. In fact, some of them won't cost a dime! As you plan out your next date or Father's Day excursion, check out this selection of affordable outdoor venues:
Yerba Buena Gardens Festival
This independent nonprofit presents six months of admission-free performances reflecting the rich cultures and creativity of the Bay Area. Catch the program outdoors with friends and family between April and October. Be sure to bring a lawn chair or blanket as the majority of seating is open lawn – no reservations or RSVP required. With shows from Latin Jazz to Circus acts and the "Poetic Tuesday" program, there's something for everyone.
The Mountain Winery
If you have yet to visit the Mountain Winery, you're certainly in store for a treat. The drive up the hill might be a doozy, but follow it up by getting boozy (assuming you've brought your friend to DD). This outdoor amphitheater tucked away on the side of a vineyard has got views for days and drink selections to match. You'll find big names in music and comedy at this venue, from Willie Nelson to Joan Jett and Steve Martin. The best part – there's not a bad seat in the house, don't feel bad if you end up in the last row.
The Greek Theatre at UC Berkeley
Get 'em to the Greek…now! The William Randolph Hearst Greek Theatre is officially the longest-running outdoor amphitheater in the country. What's more, In 2006, the Greek Theatre was the first major music venue to fully implement an environmental program during an entire concert season. That's right – music, beer, and composting, all in one venue. Perhaps the best part of all is the eclectic bunch of acts scheduled to appear at the venue this summer, including James Bay, Arcade Fire, and…Yo-Yo Ma? See, I told you – eclectic.
Alameda County Fair
Did anybody else see Bowling for Soup at the County Fair when they were fourteen? No? Just me? I've always been a big fan of the fair, especially when it comes to the chocolate cake at the 4H stand. However, the concert series is an especially great deal. As of 2018, all concert seats inside the Mattress Firm Amphitheater are now reserved and include Fair admission ($15 VALUE) on the day of the show. So, I'll be seeing you at Smash Mouth this summer, right? No? Just me?
Santa Cruz Beach Boardwalk
Much like the County Fair, a trip to the Boardwalk can be an all-day affair. Once you finish the rides and arcade (and don't forget that killer mini-golf course), bring it on down to the beach for a free evening concert. All concerts take place on Friday nights at both 6:30 and 8:30 pm, just in case you get caught in traffic. Oh, and guess what? If you miss Smash Mouth at the County Fair, you can catch them at the beach!
Remember to follow us on Facebook for the most recent photos, contests, specials, and events:
https://www....alettealameda