Travel Tuesday Presents: Christmas in Cambodia
As the holidays near, we find ourselves thinking back to past years and the wonderful memories we've shared with others.
Last Christmas, as we traveled around Asia we were unsure of what our Holiday would be like. Would we be alone? Would we find a group to celebrate with in this unfamiliar place? Would it even feel like Christmas away from family and friends – and in hot weather to boot?
One thing was certain, it was certainly going to be a new adventure!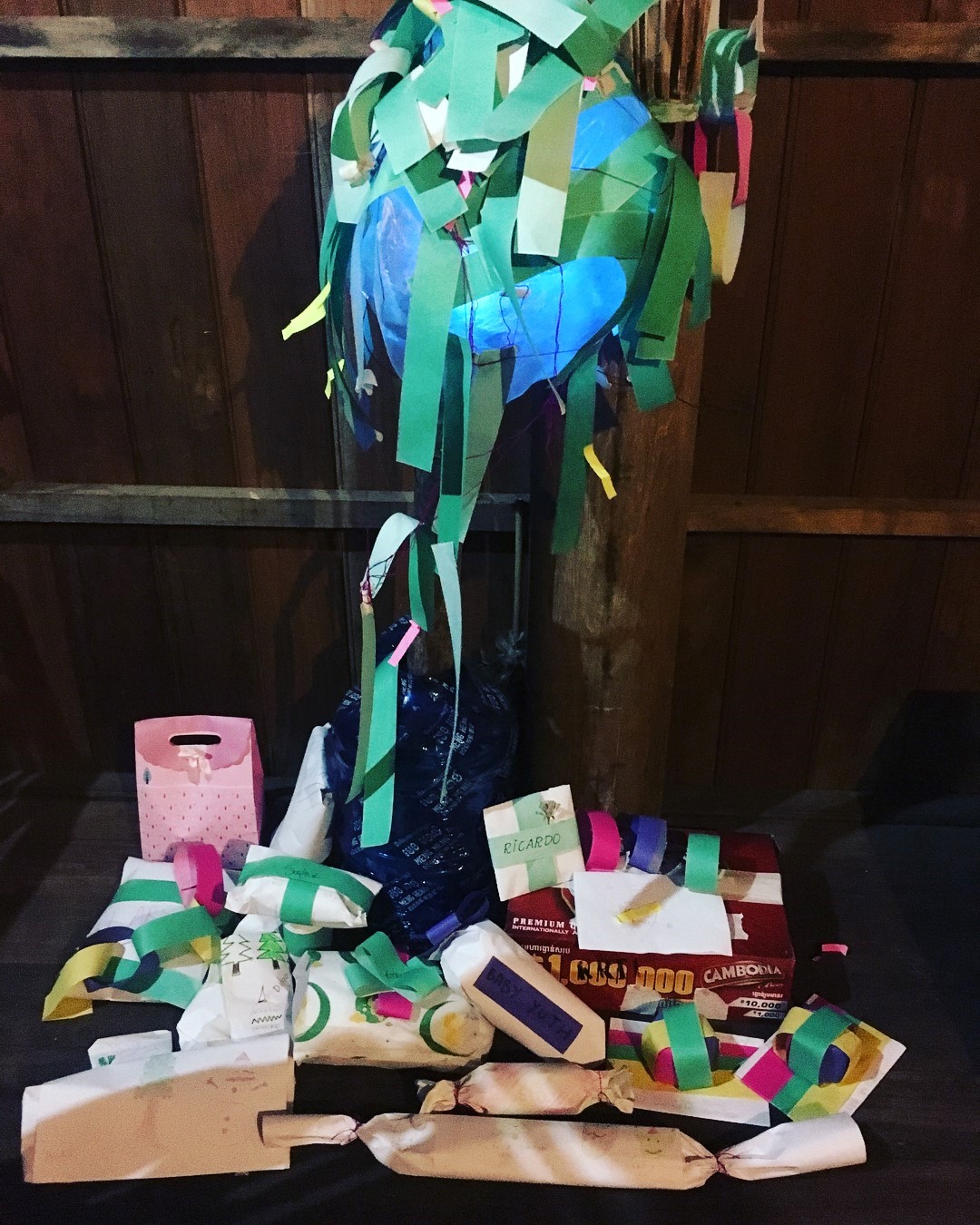 As the end of December neared we decided that we wanted to volunteer and found ourselves teaching English in a small village outside Kratie, Cambodia.
Upon arrival at Dolphin School of English we met 8 wonderful volunteers from around the world, Mr. Yuth (who runs the school) and his family, and the hundreds of lovely students we would be teaching.
Dolphin School became our home for the holidays and the people around us, our family.
As Christmas approached, we shared stories and traditions with our students through class lessons and fun games. We also began planning our Christmas feast and activities with our fellow volunteers.
It certainly felt strange listening to Holiday music as we were sweating and looking out over the school yard, dirt roads, and at cows instead of reindeer.
Decorating was equally strange - and magical - in its own way. In lieu of a Christmas tree, we built a Christmas "palm tree" out of teaching supplies, a jug of water, plastic bags from the local market, paper mache strips, and a light-up bouncy ball we hid inside our creation. We took strips of paper and created paper chains that encircled the volunteer house and all smiled to each other as we finished our hodgepodge decorations.
Alli's parents visited us in Vietnam for Thanksgiving and had brought along letters and photos from home to be opened on Christmas. Instead of just decorating the volunteer house, we also decorated the little room we were staying in at the volunteer house. We drew up a Christmas tree and cut out little snowflakes to tape to the walls and laid out our Christmas bounty from family underneath.
It was starting to feel more like the holidays.
All of our fellow volunteers had grown up celebrating Christmas and opening presents with their families, so we all decided to continue the tradition at our new home. This meant a Secret Santa was in order!
After picking names out of a cooking pot, we set the rules. We would all travel to the open-air market in Kratie together, pick out a gift on a $1 budget, and wrap it using supplies we could find in the volunteer house. It was a blast meandering our way through the market negotiating with vendors while hiding from our Secret Santa.
Christmas itself was delightful.
We spent much of the day preparing our feast of foods from around the world on two portable burners and with no refrigeration: pasta with homemade marinara, guacamole, deviled eggs, garlic bread, chips, salad, chocolate fondue, and fresh fruit. What a strange combination.
As darkness fell and we lit up our Christmas palm, we ventured downstairs to invite Mr. Yuth and his family to join us. They had never celebrated Christmas before and we had a great time laughing together as we shared stories, ate, and introduced them to foods we had all grown up with. Ralik, Mr. Yuth's son, was absolutely perplexed by guacamole and took quite a while to warm up to the idea of eating it.
After the feast, we shared small gifts with Ralik and his sister Mailey and gave a small package to Mr. Yuth and his wife – a rattle for their soon to be born second son.
This was a Christmas unlike any we'd had before. It was a beautiful experience to be able to share stories, traditions, and delicious food with people from all over the world as we made new memories together.
Stay tuned next week for more #TravelTuesday adventures from our friends, Alli & TJ of Life Is Meant For Exploring, a dynamic duo, who have been together for over a decade, out to explore the world one adventure at a time. For more #TravelTips follow them here:
https://life...xploring.com/