Getting Alone Time On The Road
"Love you, see you later babe" he said as the door clicked shut. A calming silence washed over the apartment as I basked in the peace, simplicity, and stillness around me. After taking a few moments to just enjoy the feeling of being alone, and marveling at the open floor space devoid of TJ's constant energetic self, I got up from the couch, turned on the speaker, and began to dance around the apartment. No dance in particular, simply succumbing to the rhythm, moving and swaying to the music as it filled the space around me.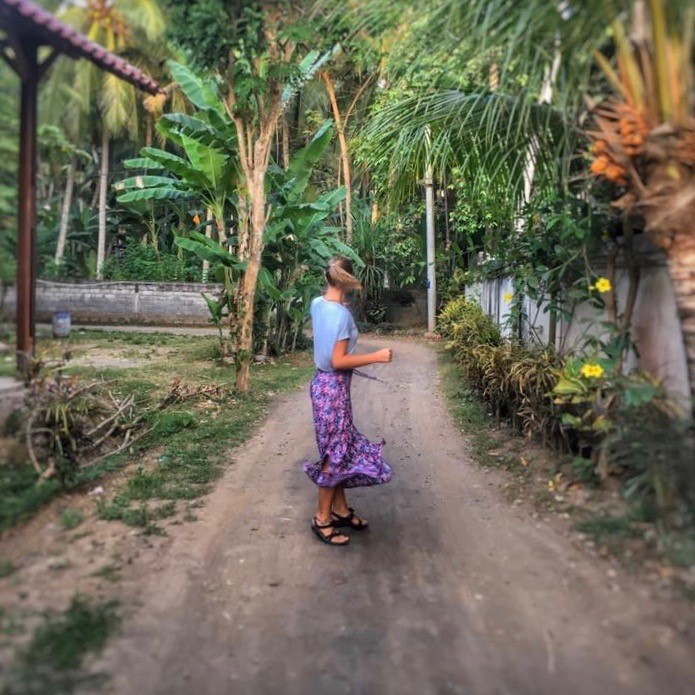 A dilemma for most introverted minds like mine, especially when away from your normal routine while traveling, is finding the time to just be alone. It's not that I don't love TJ, and it's not that I don't enjoy adventuring and exploring together, but I'm one of those people who needs time to myself to recharge. I like sitting in silence. I enjoy pondering and letting my mind wander. I like to get up and dance when no one else is watching. Without that "me" time my world begins to fall apart.
Traveling together for a year now (wow, time flies!) means TJ and I have been together all day every day, for 365 days… Ok, there have been a few times here or there were we've traveled on our own or gone off and explored a place solo, but by and large, being a traveling duo means spending copious amounts of time together. The secret to making this work, for us, is scheduling in alone time :)
Here Are 5 Ways Alone Time Benefits Our Relationship:
1). The continual tapping, humming, and singing that TJ is a gold medalist in are one of the things I love about him, but if it's all I hear every day, my head begins to explode. However, after spending time apart I find the noises that emanate from his rambunctious body endearing and a curious part of my other half. Spending time apart gives us a new-found appreciation for one another and the quirks that we have.
2). Traveling means that you have the amazing opportunity to witness so many new things: culture, food, different modes of transportation, and ways of interacting. We all interpret these new experiences differently. All the change and newness brings up new things to think about, whether it be large questions such as "when to return home" or figuring out how to process the struggles and stress that travel inevitably brings. Alone time gives us the ability to process our experiences in our own way, so that we can come together and share them with each other as we plan our next moves.
3). You know those moments when your partner, friend, or family member comes home and you can't stop talking about the day you each had, the changes that were made at work, or the crazy experience you had on your last travel day? Well, when you spend each and every day together, even if you're exploring new places, you may find that you have less to talk about. Spending time apart gives us heaps to talk about when we reunite and sparks awesome conversations for days to come. Plus, it's fun to see a spark of excitement light up in TJ's eye when he describes all the fun things he did out and about on his own.
4). Opposites attract? Well in some cases they do and in others, relationships are made up of two very similar people. Either way, there's bound to be something one of you enjoys doing that the other does not. For example, I love spending hours sitting in tea shops journaling, reading the news or writing postcards to friends. TJ, on the other hand, would last a little while relaxing in a tea shop, but shortly after being served his adventurous side would take over and he'd be ready to move on and explore something new. Maybe your significant other enjoys sporting events and the team spirit that comes alive within the arena, while you prefer wandering the halls of museums and galleries. Setting aside time to be alone gives us the freedom to explore things that excite us without feeling like we're dragging each other along. There's nothing wrong with enjoying different things and it is important to not have feelings of guilt or resentment build up in a relationship by spending too much time doing what the other person likes to do.
5). It's hard to surprise one another when we're on the road. We have no home base, and aren't used to many of the places we're visiting. We're never sure what the perfect date night spots are, or what the best hike for catching sunset might be. But, even when we have those things figured out, it's hard to surprise each other when we're constantly together! Alone time not only means that we can "do us" and dance around the apartment if we so please, but spending time apart provides the perfect opportunity, and coverup, to surprise each other. After dancing the afternoon away in our little KL studio, I had plenty of time to clean the entire apartment, prep dinner, and lay out TJ's one pair of "fancy" travel clothes for when he returned from the gym to our surprise date night ; )
Traveling the world is one of the most rewarding experiences I could have ever dreamed of having together. It's wonderful to know that I'm doing it with my best friend, and future husband, and that we have many more adventures ahead of us. The future, like our months of travel right now, will also be full of alone time so that we can benefit from growing individually as well as together.
Remember to follow us on Facebook for the most recent photo's, events and specials!
Enter your contact info and request details below, and we will contact you with details about your private party!