5 Holidays Everyone Should Witness In Their Lifetime
Oh November, what fond memories you hold for us. Crowding around the kids table on Thanksgiving, savoring the smell of turkey in the oven and fresh apple pie on the windowsill. Or, decorating the Christmas tree (or three if you're in TJ's house) with our families while watching Rudolph The Red Nose Reindeer.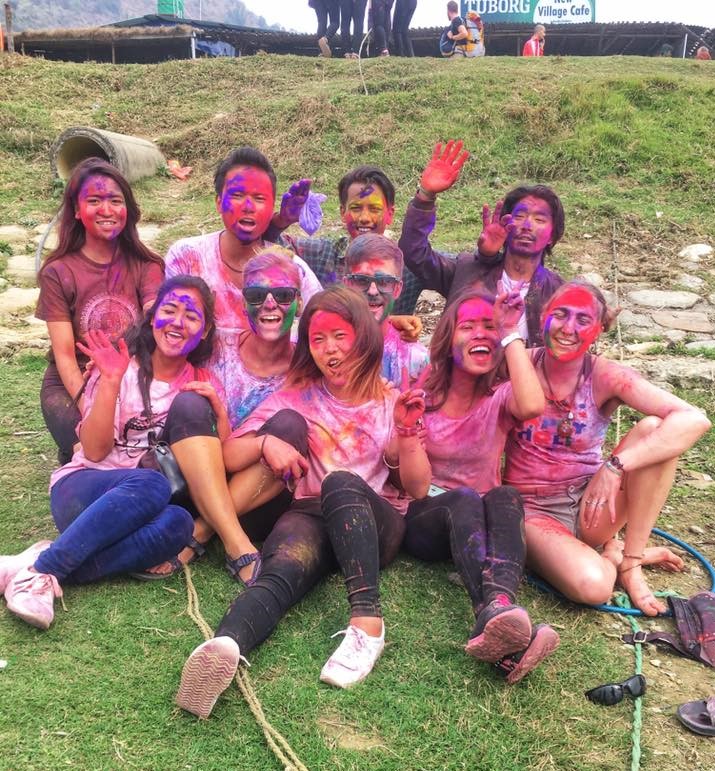 While nothing will ever quite compare to our fond childhood memories of sitting in bed waiting for Santa to arrive, traveling provided us with a host of new holidays and traditions to be grateful for.
There are many memories from our journey that we'll never forget and these holidays will forever hold a special place in our hearts.
Our Top 5 Favorite Holidays In Asia
#1 Holi Festival
Holi is a Hindu festival marking the arrival of Spring and the passing of Winter and is quite possibly the brightest and most colorful celebration in the world. You've probably seen photos from India or Nepal of large crowds throwing every vibrant color imaginable at each other.
We were fortunate enough to celebrate Holi while preparing for our Annapurna Circuit Trek in Pokhara, Nepal. It was one of the most fun days of our lives. We felt like children with not a care in the world "playing colors" with thousands of random strangers all smiling back at us as they rubbed pink, purple, green, and blue powder all over our faces.
Holi is predominantly celebrated in India and Nepal, but can be experienced in many Western countries as well. Also known as the "festival of colors" or the "festival of love", Holi is a day where people gather together in unity and leave behind all prior resentments or bad feelings toward each other.
#2 Chinese New Year
Another Spring festival and one of the biggest celebrations on earth, Chinese New Year (CNY) is celebrated at the turn of the traditional Chinese Calendar. In the Chinese lunar calendar, each year is represented by a different animal and changes annually on CNY.
CNY is celebrated in many countries besides mainland China. We were in Taiwan during the 2017 festival and had the privilege of experiencing what this holiday is all about. In China, as well as Taiwan, this two week period is a time for celebrating family and many people travel to spend time with loved ones. In fact, approximately one sixth of the worlds population celebrates and travels away from home during the 15 day celebration.
There are many traditions and activities that coincide with CNY, but perhaps our favorite of these traditions is the firework displays. Everywhere we went in Taipei we could see and hear the explosions from firecrackers and rockets blasting into the night sky. We even joined in on the fun and wandered around the city firing off our own bottle rockets while smiling and laughing with many locals who were out and about celebrating with their families.
#3 Yee Peng & Loy Krathong
Right up there with Holi Festival, this Siamese festival celebrated annually throughout the Kingdom of Thailand is one of the most magnificent spectacles we have ever witnessed.
Loy Krathong takes places on the eve of the full moon in the twelfth month of the traditional Thai lunar calendar. It is a time for celebration with family and friends. Thai people craft floating rafts with their loved ones and launch them down river as a symbol of waving misfortunes goodbye, washing away sins, and making wishes for the coming year.
In Northern cities like Chiang Mai, Loy Krathong coincides with the Yee Peng lantern festival. It is a mind blowing spectacle for those fortunate enough to be there. Tens of thousands of flying lanterns are released into the sky as Krathong lantern boats are released down the river. The sky lights up and the river is on fire as these lanterns transport their creators' good intentions into the world.
#4 Ramadan
"Ramadan is the ninth month of the Islamic calendar, and is observed by Muslims worldwide as a month of fasting to commemorate the first revelation of the Quran to Muhammad according to Islamic belief. This annual observance is regarded as one of the Five Pillars of Islam." -Wikipedia
Though we did not take part in fasting, we spent the entire month of Ramadan in Indonesia and Malaysia where there is a large population of Muslim people. We got to learn about its traditions from local dive masters whom we met throughout our travels while staying on Tioman Island.
Fasting during Ramadan is an obligatory practice for all Muslim adults and is observed from sunrise until sunset when they gather to break fast. (The dive masters we were with did not fast while taking groups out on dives for safety reasons). Fur us, it was fascinating to observe such strong collective devotion and self restraint. Fasting not only applies to not consuming food or drink, but also refraining from other vices such as smoking, having sex, fighting, and insulting others.
One of the most joyous days in the Islamic calendar falls at the end of Ramadan, a day known as Eid al-Fitr. It is a day of merriment and giving thanks where people gather with loved ones, preparing bountiful delicacies, dawning new clothes, and presenting gifts to one another. It is customary for Muslims to welcome anyone into there home on this day, and we were invited to travel with a Muslim friend we met in Malaysia to his parents home in Kuala Lumpur.
#5 Boun Heua Fai
In Luang Prabang, Laos the annual fire boat festival (or festival of light) was one of the most impressive displays we witnessed in Asia.
Throughout the city, each family builds an illuminated boat that will be launched down the Mekong River. These boats are incredible. So much detail goes into designing and crafting each unique display. The boats are handmade with bamboo and banana trunks and decorated with everything imaginable (including money and candles).
Many of the villages and businesses build large and extravagant displays which are judged to decide which is the most beautiful in the entire city. The whole celebration culminates in a giant parade where the boats are marched down to one of the important temples and launched into the Mekong. These boats can reach up to 15-20 feet in length and are covered with flaming candles. They are absolutely exquisite.
Families gather along the river to eat and drink as they watch each boat pass by. Laotians wear their traditional Sinh and Salong clothing, people are singing and dancing, and fireworks are launched all throughout the city… Simply put, it is awe inspiring. We had a blast joining the parade procession and marching down to the river to watch the boats float by.
Stay tuned next week for more #TravelTuesday adventures from our friends, Alli & TJ of Life Is Meant For Exploring, a dynamic duo, who have been together for over a decade, out to explore the world one adventure at a time. For more #TravelTips follow them on their blog at:
https://life...exploring.com