Meet the Artist David
Meet David, you have seen his art in movies and video games.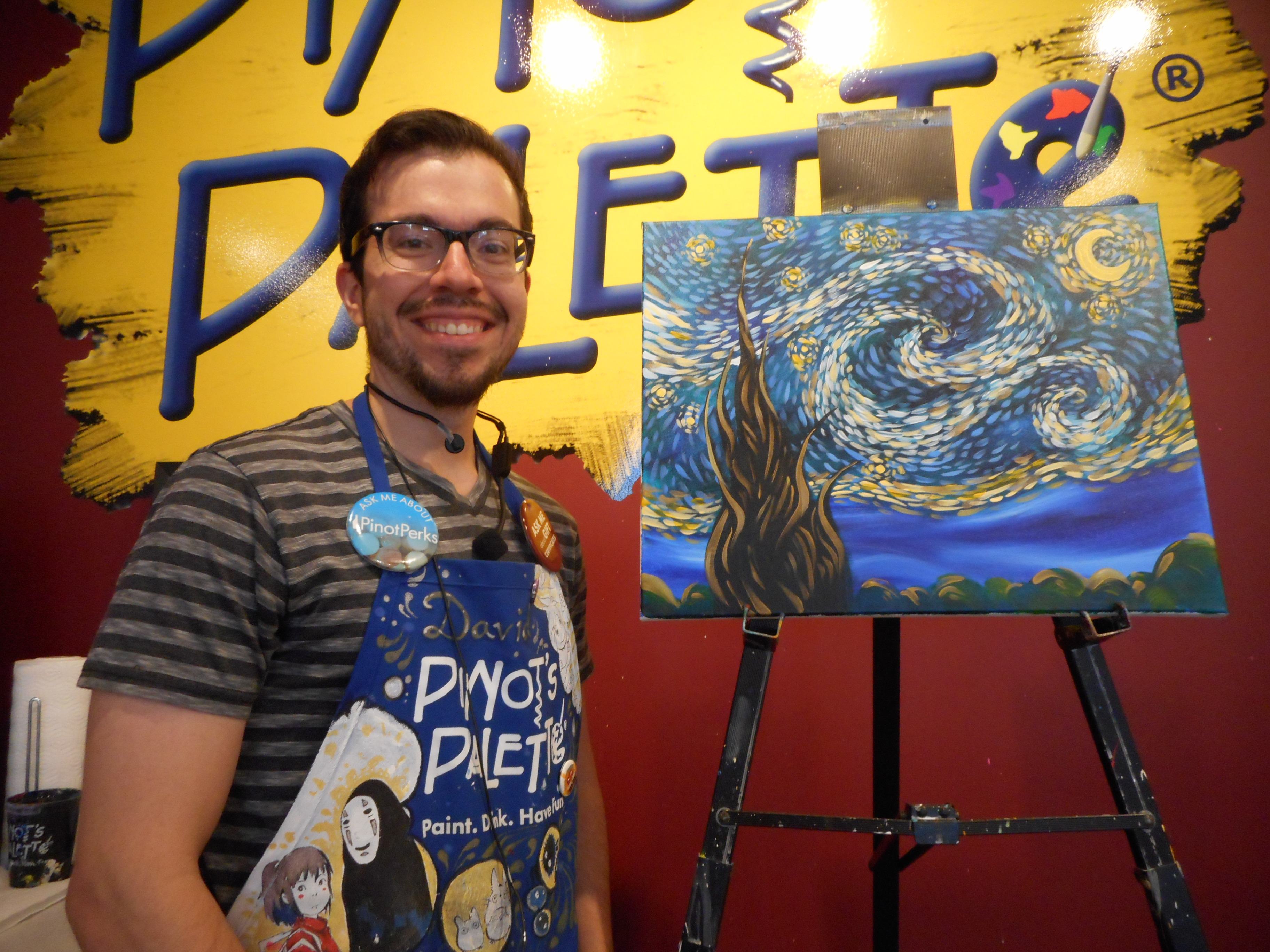 Sometimes it can be easy to forget that the artists leading your favorite Pinot's Palette classes do more than help you paint, drink, and have fun. Our stage artists are a diverse crowd of talented folks who have a passion for art of all kinds – from sculpture, to drawing, to performance art, to (of course!) painting. We're excited to be featuring each of our artists here on our blog so that you can not only get to know them better, but also have the chance to see and experience some of their unique, beautiful art.
This week we introduce you to David Tenorio. Originally, David comes to us from McAllen Texas. Located in the southern tip of Texas referred to as the Rio Grande Valley. No he doesn't even own a cowboy hat or boots. Growing up with his sister, David has memories of a quiet, relaxing, familial calm vibe that has stayed with him his entire life. As a very young boy of 3 or 4 David started drawing. By the time he was in middle school his portraits were so good he started selling them in the lunch room! So he dropped his paper route and devoted his time to art. During HS David started drawing characters of all types. His imagination was boundless. He began to take art very seriously. Although his parents and grandfather are very successful business folks, they encouraged David to follow his heart. Even buying him expensive art supplies when those were out of his reach. David attended UT Austin as a Fine Arts Major and minor in Studio Art. He has fond memories of those days where he was introduced to a plethora of art mediums; sculpture, painting, photography, print making etc.
Today's Passion? Currently when David is not happily taking Pinot's Palette guests on a painting journey, he works as a freelance illustrator and 2D artist. He lives in Oakland, CA with his brand new wife. He designs book covers, video games and other illustrations. David really enjoys designing costumes as a commercial artist. You have probably have even seen his work as a freelance artist for Troublemaker Studio's, Vertigo Gaming, Guilt Free Gaming, or Stellestrian Books and Toys.
David's favorite part of being a stage artist at Pinot's Palette is not just making people laugh or putting them at ease. He loves getting to be a part of helping ordinary non artist folks make art! He believes everyone should do some art form in their life daily to lead a more peaceful, calm, and healthy life. We couldn't agree more.
We asked David, what advice do you have for a young artist? David suggests if you want to live off your art, remember art as an artist is not always fun, it can be very hard work. Ask yourself, Is it the most interesting thing in the world to me? If your answer is yes, then stoke the passion, do some kind of art every day. Try every art medium you can until the one you connect with makes you think about it constantly and live it daily in some form.
Thank you David for sharing your thoughts, we our honored and proud to have you as part of our party crew!
To see more of David's awesome art, we invite you to visit:
https://www....enorioArt.com
Instagram: @tenorioart