Cinco de Mayo
Cinco de Mayo Friday May 5th 7:00-9:30 PM We are excited to celebrate the achievements, culture, and experiences that Mexican-Americans have given to all of us. Join us tonight for one of our most popular paintings: "Sugar Skull Crescent Moon" Aclamaciones!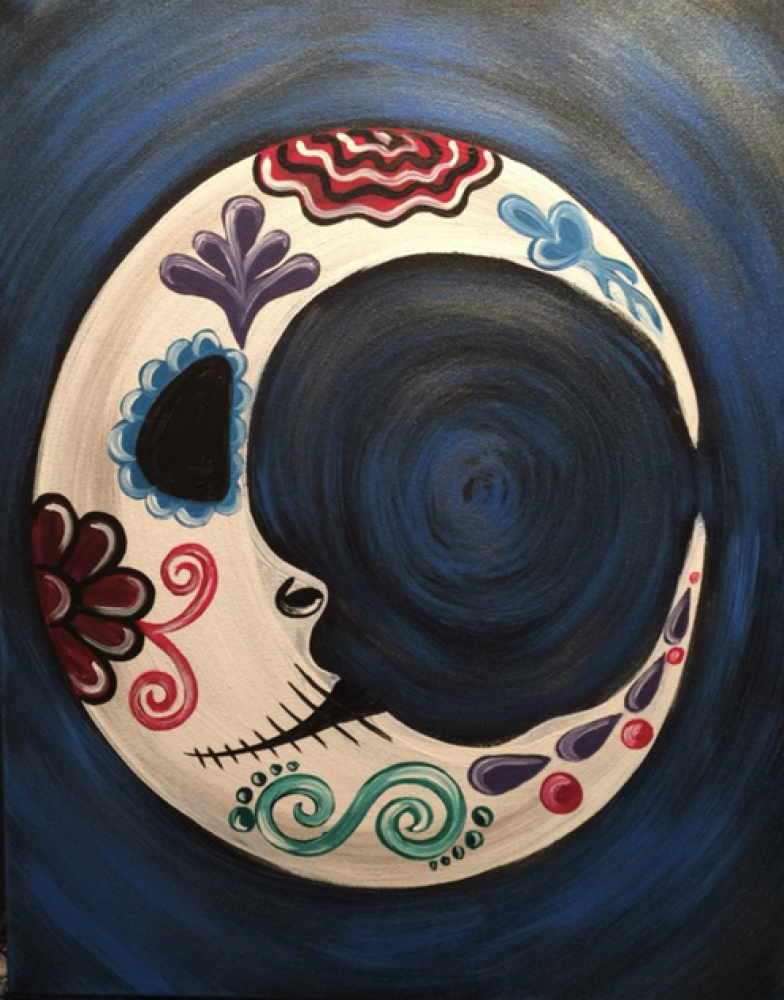 What Do People Do?
Cinco de Mayo is seen as a day to celebrate the culture, achievements and experiences of people with a Mexican background, who live in the United States. There is a large commercial element to the day, with businesses promoting Mexican services and goods, particularly food, drinks and music. Other aspects of the day center around traditional symbols of Mexican life, such as the Virgin de Guadalupe, and Mexican-Americans who have achieved fame, fortune and influence in the United States.
One of the largest Cinco de Mayo celebrations are in cities such as Los Angeles, San Jose, San Francisco, San Antonio, Sacramento, Phoenix, Albuquerque, Denver and El Paso in the USA's south-western regions. In these cities, a large proportion of the population has Mexican origins. Many people hang up banners and school districts organize lessons and special events to educate their pupils about the culture of Americans of Mexican descent. In some areas, particularly in Pubelo de Los Angeles, celebrations of regional Mexican music and dancing are held.
History of Cinco de Mayo
The history of Cinco de Mayo 2017 dates back to 1861 when the Benito Juárez became the president of Mexico. Due to the financial turmoil that Mexico was in, Benito Juárez was forced to default on his debts to European governments and in response to this France, Britain and Spain sent naval forces to Veracruz to demand reimbursement. Britain and Spain negotiated with Mexico and withdrew, but France, ruled by Napoleon III decided to use the opportunity as an attempt to make a dependent empire out of Mexican territory.
Late in 1861, a well-armed French fleet stormed Veracruz, landing a large French force and driving President Juárez and his government into retreat. Consequently, 6,000 French troops set out to attack Puebla de Los Angeles, a small town in east-central Mexico. President Juárez then rounded up a force of 2,000 men—many of them either indigenous Mexicans or of mixed ancestry—and sent them to Puebla to fight against the French.
On May 5, 1862, the battle between Mexico and France lasted from daybreak to early evening, and when the French finally retreated they had lost nearly 500 soldiers. Fewer than 100 Mexicans had been killed in the clash. Although not a major strategic win in the overall war against the French; this defeat represented a great symbolic victory for the Mexican government. It should be noted that Cinco de Mayo 2017 is not the anniversary of the defeat and expulsion of the French forces by the Mexicans, which occurred in 1867 when the French withdrew from Mexico.
Learn more about events here:
http://latinbayarea.com