Giving a Child a Chance
We are honored to host a Fund Raising event to benefit Family Builders Friday, February 3rd from 7-9:30 PM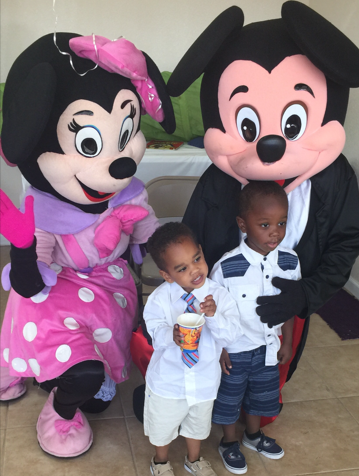 Family Builders has been providing services and programs for children and families since 1976. There are thousands of children and youth in the nine Bay Area Counties who are in foster care. Nearly half are in Alameda and San Francisco Counties.
This is just one story we want to share about the importance of supporting Family Builders for the children of our area that need our help today. This is about the Dobbins Family and how they made a difference to two very special children.
In 2012, Mrs. Dobbins was approached by an acquaintance. The woman, who had custody of her two young grandchildren at the time, just found out her daughter was pregnant again – with twins. She didn't have the capacity to care for the twins, and reached out to Mrs. Dobbins for help. The woman had seen how loving and supportive Mrs. Dobbins was toward her own four children, and asked if she would consider being a foster parent for the twins. Mrs. Dobbins agreed to help, and on May 28, 2013, Christian and Aliciana were born.
Having arrived nearly eight weeks early, the twins were very small and fragile, and could not breathe on their own. Both infants had to remain in the NICU, though Christian was much weaker than his sister and was faced with many more challenging health issues after birth. A couple weeks later, Mrs. Dobbins was informed Aliciana was strong enough to be released, and the social worker brought her over the next morning. However, Christian had to remain in the hospital for a few more weeks. Aliciana's stuffed animal "Peetie," which carried his sister's scent, was left to comfort Christian while they were apart.
When the Dobbins Family first met the twins, they were small and fragile, and required extensive care around the clock. The first six months were very difficult, but with so many people to love and support them, the twins' health quickly improved, and they began to thrive in their new environment. When the twins were one year old, on December 1, 2014, Christian and Aliciana were legally adopted by the Dobbins, and became a permanent part of the family.
Today, at three years old, they have grown into amazingly healthy, intelligent and caring individuals. They admire their big brothers deeply, often referring to them as "My Josiah," "My Gabriel" and "My Micaiah" to show their love. They play hide-and-seek with their dad (while sitting on his shoulders), and frequently put on shows for their family while singing "You are my Sunshine" or "Baby Bumblebee" with their youngest brother. Aliciana also appreciates fashion, and enjoys putting outfits together with colorful tutus, sunglasses and matching accessories.
The Dobbins' family's love and support toward the twins and each other have helped them overcome many obstacles, and have given Christian and Aliciana the opportunity to live a happy, healthy life – together.
Mrs. Dobbins is very thankful to have Christian and Aliciana in her family, and mentions she would not have been able to do this without the support, dedication and understanding of the twins' social worker and Family Builders' staff.
Learn more about how you can help here:
http://www.f...ybuilders.org