Alameda Meals on Wheels
20th Annual Alameda Meals on Wheels Community Faire and Wine Tasting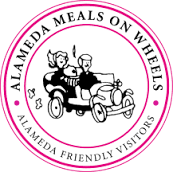 Alameda Meals on Wheels (AMOW) is a locally-funded, seven-day-a-week program that has been delivering hot, nourishing meals to Alameda residents since 1973! Each day, holidays included, our cheerful and caring volunteers deliver a mid-day meal to more than 140 Alameda residents of all ages that need our assistance - whether due to recent surgery or hospitalization, because they aren't able to get out to grocery shop, or because they can't cook their own meals. Our subscribers pay on a sliding fee scale, based upon their ability.
We are honored to participate in this important community event.
Tastings from award winning California Wineries and the epicurean delights from local restaurantsAsena,
C'era Una Volta, Crispian Bakery, Dan's Fresh Produce, Donsuemor, Dragon Rouge, Herbs & Spices
Mama Papa Lithuania, Nothing Bundt Cakes, Otaez, Oakmont of Cardinal Point and Mariner Point
The New Acapulco, Semifreddi's, Starbucks, Trabocco and Trader Joe's
Informational tables from Alameda Non-profit Organizations
Zinfandel ice cream, and other flavors, generously donated by Tucker's Supercreamed Ice Cream
Children's Jumper Area by Backyard Carnivals! ~ Bike Parking Available.
Special Entertainment by Gus Wedemeyer's 3 O'Clock Jump Big Band
Purchase RAFFLE TICKETS for your chance to win
$1,000.00 CASH!
PLUS OTHER FINE PRIZES
Raffle Tickets: $5 each or 5 for $20
$20 per person entrance charge at the door
Visa & MasterCard accepted for donations and payments
For more information, call 510-865-6131 or www.alamedamealsonwheels.org