Meet Sonya
We thought you would enjoy meeting a few of our Connoisseur members from our Pinot's Perks membership. We will be featuring new guests often in our blog and today we start with one of the original members.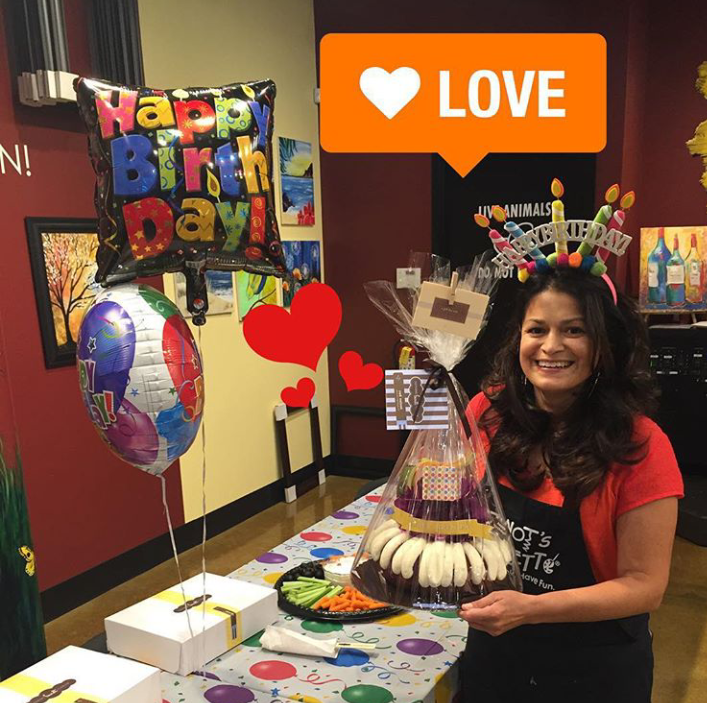 Sonya has been coming to our studio in South Shore Center since we opened in August 2015. We love Sonya's enthusiasm, friendship and easy-going demeanor. She has shared a little bit about herself and why she loves painting so frequently with us.
She comes from a large, tight-knit family and was raised in Napa, California. Her uncle owns the family vineyard. Sonya attended St. Mary's College then on to post graduate. Her interests are vast, and she is both fun and delightful we enjoy her engaging conversations.
I remember asking her one evening after a paint class, Sonya you attend a lot of classes here and every time you purchase a frame for your painting. Where do you have all of those paintings hung? Sonya laughed, I give them as gifts for family and friends birthdays, anniversaries and special occasions. What a great idea! She admits, she only keeps a few for herself.
Sonya told us the main reason she loves attending Pinot's Palette Alameda is for the relaxation. As the study reported in Health Fitness Revolution (http://www.healthfitnessrevolution.com/top-10-health-benefits-painting) in May of 2015 "Painting can be therapeutic because it allows the mind to focus on the images at hand and on nothing else. This focus toward one central topic relieves stress on the mind, and in turn relaxes the body. This relaxation minimizes muscle soreness, joint pain, headaches, and other physical ailments. It has similar effects as meditation."
Sonya believes it really is therapeutic because she can forget about her current projects, deadlines, to-do-list and everything else in today's busy world and just loose herself in painting. She has brought many family members and friends to the studio for the fun, music and great choice of paintings. She mentioned she has tried other paint night locations and keeps coming to Alameda for the warmth and friendship of the staff she thinks just rocks!
Finally, we got lucky and Sonya agreed to share pictures of some of her paintings that are now decorating different rooms in her new home here in Alameda. Here is a sample of just one room.
We hope you enjoy them as much as we do. We hope you will share photo's of your paintings with us soon.
We feel blessed to have so many returning guests as regulars. Their support and friendship mean the world to our small family owned business. We certainly couldn't survive without them.
Until next time, remember, when you feel you are just too stressed with work and life, make time for yourself and Paint. Drink. Have Fun. It will do your mind and body good!
Don't to forget to follow us on Facebook and Instagram for the most recent photos, specials and posts.
https://www....alettealameda
https://www..../pinotalameda
See More Benefits of painting here:
http://www.h...fits-painting