Meet Jeni Shell
We thought you would enjoy meeting a few of our Connoisseur members from our Pinot's Perks membership. We will be featuring new guests often in our blog and today we share information of one of our most frequent guests.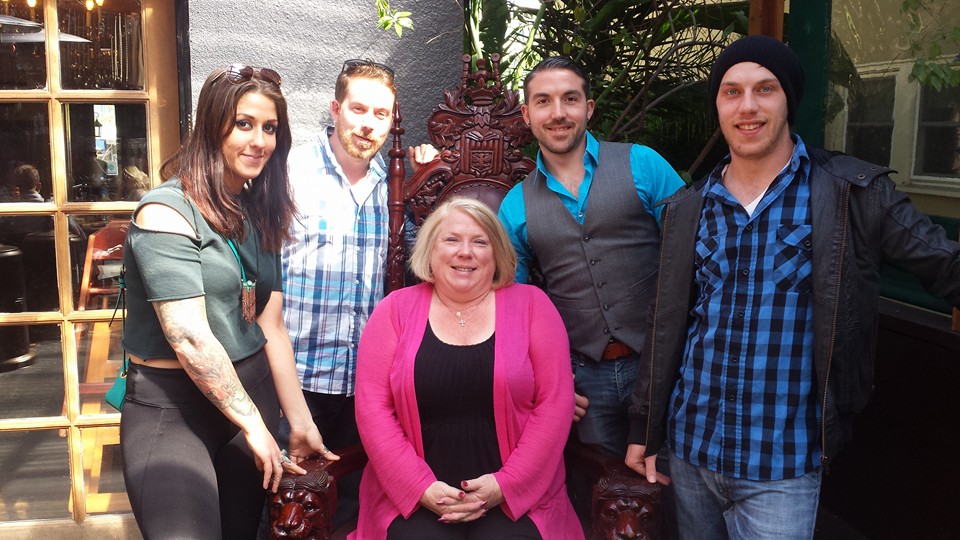 If you have attended a class in the last 18 months you have seen Jeni Shell one of our favorite painters and a good friend. Jeni was born and raised in Berkeley CA. She now lives in Oakland. She was kind enough to share a photo of just some of her paintings that are hung in her home.
Jeni is an energetic single mom of 4 grown children. For the past 27 years she has owned and operated a licensed childcare facility so she could be home for her own kids while growing up and pay for their private schooling. Not surprisingly, Jeni volunteered for just about anything at her kids schools. This included almost every bake sale. Did we say she bakes? HA!!
Anyone who has ever tasted any of her baked goods can guarantee, they are simply delicious! As a result, Jeni's Cake and Treats was born. Many times when Jeni attends a class she will bring baked "treats" for the staff and the staff is over-the-moon.
For the Second Anniversary of Pinot's Palette Alameda in September we hired Jeni's Cake and treats to bake an anniversary cake. First, she recreated the anniversary painting: "Sunrise over the Golden Gate" complete with bridge, a real wine glass and wine. It not only was creative but one of the best tasting cakes we have ever eaten.
Why does Jeni paint multiple times a month? Let her explain: My kids treated me to my first paint and sip night. Before I left I purchased 2 seats for the next class with the Pinot's Palette Same Night Signup discount of $10 off. Two nights later I attended that class, brought one of besties and became Addicted! I have been attending multiple classes monthly ever since. Why? It's true what people say that painting is so very relaxing. My job caring for very young ones is stressful. It is important you find an outlet for that stress. To me Pinot's Palette Alameda is like small town community. I have met so many new people and made so many new friends, I just love it! Great wine, fabulous paintings (I'm no artist) and wonderful people."
We couldn't agree more with Jeni. It is a community of really fun people that visit us each day and we love to see their expressions and hear what they have to say when the painting is complete. It is so much fun to entertain people and bring a little relaxation to your life.
We invite you to visit Jeni's Cakes and Treats online at Facebook:
https://www..../jeni.shell.1
To learn more about the Health Benefits of painting:
https://bebr...-for-everyone
Don't forget to follow to follow us on Facebook and Instagram for the latest photos and specials.