DONUT Worry, Be Happy
Some people like cookies.
Others prefer ice cream.
But me?
I love donuts.
Wait, I don't think you understand…
I LOVE donuts.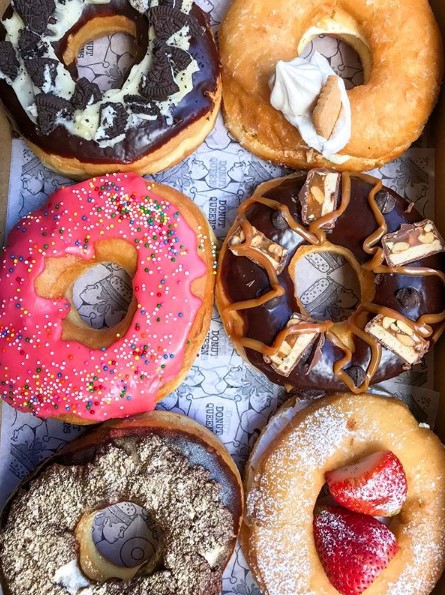 For me, there is no better treat than a donut. I would forgo any birthday cake for the rest of my life, in favor of a donut. I would partake in an hour of CrossFit (and unfortunately, I have), to earn myself a donut. I'm not particularly a fan of the expression, but yes, I would give up my first-born, and trade them in for a donut. That last one probably isn't as effective as I don't plan on procreating anytime soon and I do plan on consuming a donut (or three) as soon as tomorrow.
Donuts, for me, are the perfect food. For starters, they're relatively inexpensive. Now, I realize that's not always the case, as nowadays, people tend to flock to what I call, the "designer donuts," or the donuts with a twist. They're vegan or covered in cereal or infused with whiskey (and yes, I've sampled all of the above). Generally speaking, if anything is "infused," you can bet your bottom dollar that it's going to cost you. Same goes for the spelling – "donuts" tend to run cheaper than "doughnuts". I happen to prefer the "nut" variety…more authentic.
As if the low-cost wasn't enough, here's something else for you to consider: donuts have variety. I know that ice cream comes in different flavors and cake comes in different shapes and sizes, but in the end, ice cream is still ice cream and cake is still cake. Donuts, however, the all-mighty superior sweet, come in all sorts of choices. Raised donuts, cake donuts, old-fashioned donuts, buttermilk donuts, savory, sweet, baked, or fried… I mean, c'mon! The list goes on and on.
Now, are you ready for the best part? Because, this is most definitely the number one reason why donuts rule all. Donuts can be consumed anytime of day. Boom! Are they breakfast? Are they dessert? Are they snacks for the office? Yes, yes, and absolutely – no office can resist the sweet temptation of donuts.
I'm not sure where my deep appreciation for the hole-y cake comes from, but the important thing is that it's there. We deny ourselves too many pleasures, and I for one refuse to let donuts be one of them.
So, the next time you're in the City, I recommend you take a stroll to Bob's Donuts on Polk Street. No excuses, because they're open 24 hours.
https://www....sdonutssf.com
Craving a maple glazed bacon apple? No body compares to Dynamo Donuts and Coffee on 24th Street in The City is off the hook!
https://dynamodonut.com
If you're in the East Bay, Homeskillet in Alameda makes a mean blueberry cake, but none can compare to the crumb donut you'll find at Ming's Donuts in San Leandro.
Trust me, I'm a professional.
Donut lovers look here to find great donuts when traveling:
https://www....nuts-founders
Remember to follow us on: Facebook and Instagram for the most recent photos and specials.
Facebook:
https://www....alettealameda
Instagram:
https://www..../pinotalameda
Enter your contact info and request details below, and we will contact you with details about your private party!