Top 10 Health Benefits to Paint with Us
Whether you are a #babyboomer #genx or #millennial we are all striving to live healthier today. Not only do we try to eat better, exercise but we want relaxation and play time to be healthy as well. Here are just some benefits for a night of paint and wine.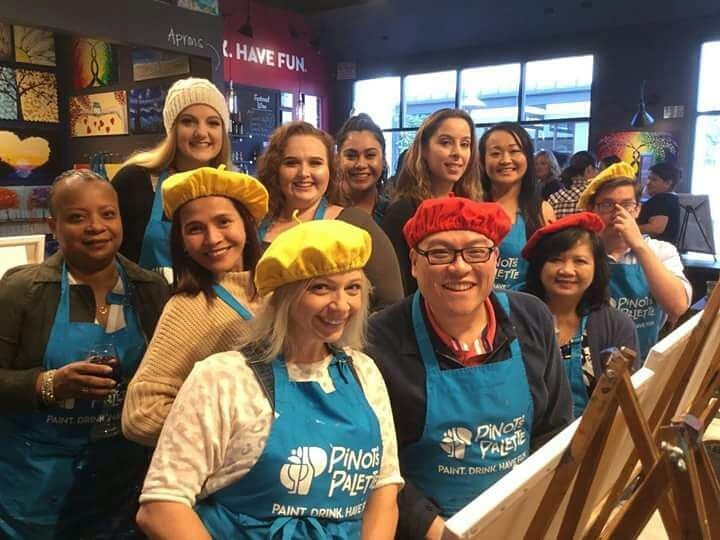 1. Improves concentration – Concentrating on the subject you're painting or concentrating on improving the details in what you've already painted builds essential skills in focus.
2. Sharpen fine motor skills – From broad backgrounds to fine details, practicing painting improves hand-eye coordination and boosts motor skills
3.Good way to relax – Painting can be therapeutic because it allows the mind to focus on the images at hand and on nothing else. This focus toward one central topic relieves stress on the mind, and in turn relaxes the body. This relaxation minimizes muscle soreness, joint pain, headaches, and other physical ailments. It has similar effects as meditation.
4. Promotes knowledge of various cultures – Painting increases your appreciation for visual art by teaching the variety and difficulties of learning techniques.
5. Boosts creativity – Whether the paintingis abstract or realistic, minimalist or chaotic, paintings are modes of artistic expression.
6. Non-verbal communication skills- Painting inspires you to communicate your deepest thoughts and feelings – even those that you may not be able to express verbally – through your art.
7. Critical thinking skills – Choosing which brush to use or which paints to mix to create the exact color you need makes you a more decisive person. Decision-making skills make your mind more efficient and this ability can alleviate stress.
8. Perseverance – If a painting does not turn out the way you envisioned, you become determine to fix the problems until the piece becomes what you want it to be. When faced with disappointment, you adopt the notion that with hard work, you will be certain to improve, enabling you to further reach your goals in life.
9. Self confidence – Just as knowing hard work yields better results, finishing a painting that you are happy with feels great and gives you a boost in self-esteem. Getting positive feedback from your peers also increases the sense of self-assurance that comes with making a work of your own.
10. Gives you a positive mindset – Creating art teaches you to be attuned with aesthetic of the visual world around you and makes you appreciate the beauty in and of life. Embracing the beauty around you gives you a more positive outlook of the world and can even decrease the risk of mental illness.
Healthy Painting Everyone!
Remember to follow us on Facebook-Instagram-Pinterest-Twitter for more photos and updates!
https://bebr...-for-everyone
http://goodr...g-and-drawing
http://genhq...t-generations